Nerinx at the Festival of Nations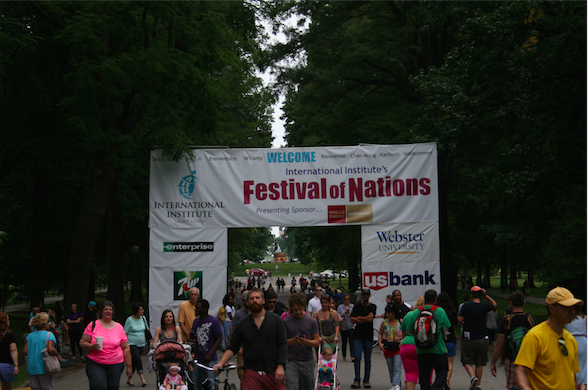 This past Saturday, I went to the Festival of Nations in Tower Grove Park. The organization that runs the festival every year is the International Institute of Saint Louis. The International Institute is located in the Tower Grove South neighborhood and is dedicated to helping new immigrants adjust to life in America. The Institute relies on volunteers to help the festival run smoothly.
The multicultural festival celebrates the people of dozens of countries around the world. Walking through the crowded main avenue of the park, I was surrounded by a wide variety of people representing many races, religions, ages, and backgrounds. Music and singing from three different stages echoed throughout the park. The dancers, musicians, and singers all wore beautiful, intricate costumes. Food tents from every country I could think of lined the main avenue of the park. The countries represented ranged from Senegal and Scotland, to Thailand to the United States. A flood of delicious scents from all of the stands barraged me; I wish I could have eaten something from every country! Ultimately, my friends and I opted for some bourbon chicken kabobs, Voodoo fries (crinkle-cut fries seasoned with parmesan and garlic), and strawberry smoothies from the Cajun tent. While we ate, we roamed around the south avenue of the park where there was a wide array of tents and stands from a large number of countries. Each stand sold crafts, clothing, instruments, jewelry, etc. produced in a certain country. One of my friends bought some beautiful handmade earrings from the Iranian tent, and I purchased some Tibetan prayer flags.
I saw many members of our own Nerinx Hall community. Members of our model UN Club helped in the booth belonging to Civitas, an organization that helps the UN club during the school year. Some Nerinx students volunteered independently, working the children's craft station or the Festival of Nations' merchandise booth. Apart from our generous volunteers, I saw many other friendly faces throughout the park. I was proud to see so many of my classmates living the Loretto values of community and respect. I encourage those who have not experienced the festival to go next year!