Hoboken, New Jersey Rebuilds After a State of Shock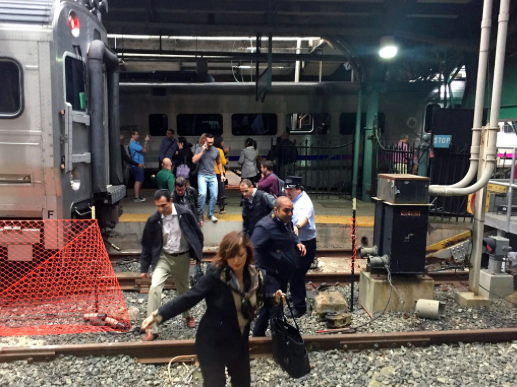 On Monday, September 29th at 8:45 AM, a commuter train barreled through one of Hoboken New Jersey's most popular terminals, seeing at least 60,000 passengers a day. . The train injured over one hundred people and killed one woman on impact who was standing on the platform. The Beaux-Arts Building, which houses the terminal, was in complete turmoil after the crash. Tears, screams, and sirens were heard all throughout the Beaux-Arts Building and the rest of Hoboken. The cause of the accident is still unknown.  
Fabiola Bittar de Kroon, the victim of the crash, was thirty-four years old. She was crushed by the station's ceiling and supporting structure of the station, which fell in because the the train exceeded the station's ten mile per hour speed limit. The train's engineer, Thomas Gallagher, does not remember the actual crash, but he does remember that the train was six minutes behind schedule. Facts like this are concerning those involved in the crash. Sixty-six-year-old Sheldon Kest, lost his finger due to the crash and had to climb out of the window of the train, to escape the wreckage. Kest is one of the first passengers to sue the New Jersey Transit. When Kest was interviewed, he spoke on his anger about the lack of answers concerning the cause of the crash. Law experts like Tom Vesper conclude that victims of the accident will most likely win their lawsuits.
Despite the injured masses, life lost, and extensive damage, Hoboken is rebuilding itself in a timely manner. The city has become an example of the message, "life goes on." On Monday, October 10th, eight out of the seventeen tracks reopened at the station, along with the new rule: a conductor must accompany an engineer in watching a train enter the terminal, in order to ensure things run smoothly. Citizens of the New York and New Jersey areas have pushed past their initial fears after the crash and resumed their morning transportation routines. The citizens are setting a good example of a strong community in a time of destruction, and Nerinx students can learn from the strength that came from this situation. Empowered, Loretto women are called to action, and in times of crisis and change, students can learn from the citizens of Hoboken through their community and steps towards advancement.
Visit these sources for more information: http://www.nytimes.com/2016/09/30/nyregion/new-jersey-transit-train-crash-hoboken.html?_r=0&module=Slide&region=SlideShowTopBar&version=SlideCard-4&action=Click&contentCollection=N.Y.%20%2F%20Region&slideshowTitle=Train%20Crashes%20Into%20Hoboken%20Station&currentSlide=4&entrySlide=1&pgtype=imageslideshow
http://www.nbcnewyork.com/news/local/NJ-Transit-Train-Service-Resumes-at-Hoboken-Terminal-Derailment-396497291.html
http://www.lohud.com/story/news/transit/2016/09/29/cause-hoboken-train-crash/91269290/
http://newyork.cbslocal.com/2016/09/30/fabiola-bittar-de-kroon-nj-transit-crash/
http://www.nj.com/news/index.ssf/2016/10/ntsb_hoboken_train_crash_sunday.html
http://www.northjersey.com/news/tenafly-man-who-lost-end-of-finger-in-hoboken-train-crash-plans-to-sue-1.1675328
http://www.northjersey.com/news/tenafly-man-who-lost-end-of-finger-in-hoboken-train-crash-plans-to-sue-1.1675328