Why I Marched : A Perspective from the March for Life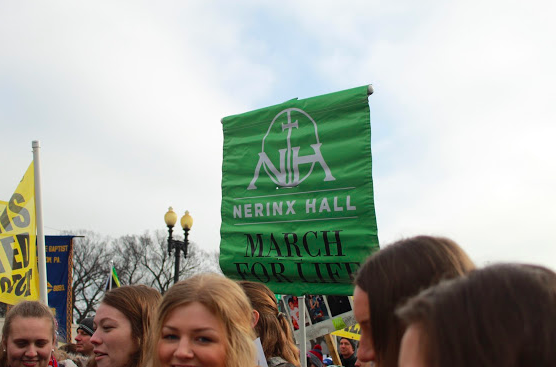 Over Martin Luther King Jr. weekend this past January, I, along with 16 other Nerinx students, embarked on the March for Life Trip to Washington D.C. It was a long and sometimes frustrating pilgrimage, but also an inspiring experience that really impacted me. When I initially signed up, it was an impulse decision. If someone asked me why I signed up to go, I wouldn't know what to say. I did believe in the pro-life movement before going on the march, but didn't have a solid reason as to why I believed in it.
I went on the March for Life with a open mind and searching for reasons. So, the night before the actual march, we had a prayer service. There was a keynote speaker who spoke about her child who was born premature and almost died. What really stuck with me is a point that the speaker made. Her child was born early in the 2nd trimester. She said that babies are stilled being aborted at this age, while she was hoping and trying to save the baby's life. It really struck  me that there are moms and nurses trying to save early born babies while abortions are still happening at the same age. The next day following the march, we had another prayer service and peers who talked to us.
Those events, the prayer services, and talks gave me the clarification I was looking for on this trip. I was able to justify why I was on this trip. Being pro-life is supporting all life, born and unborn. Yes, the main focus is on babies but it also focuses on immigrants and people being mistreated in day to day life. I didn't know much about the pro-life movement but after going on this trip, I have a stronger belief and appreciation for the pro-life movement.