Spotlight: The Connellys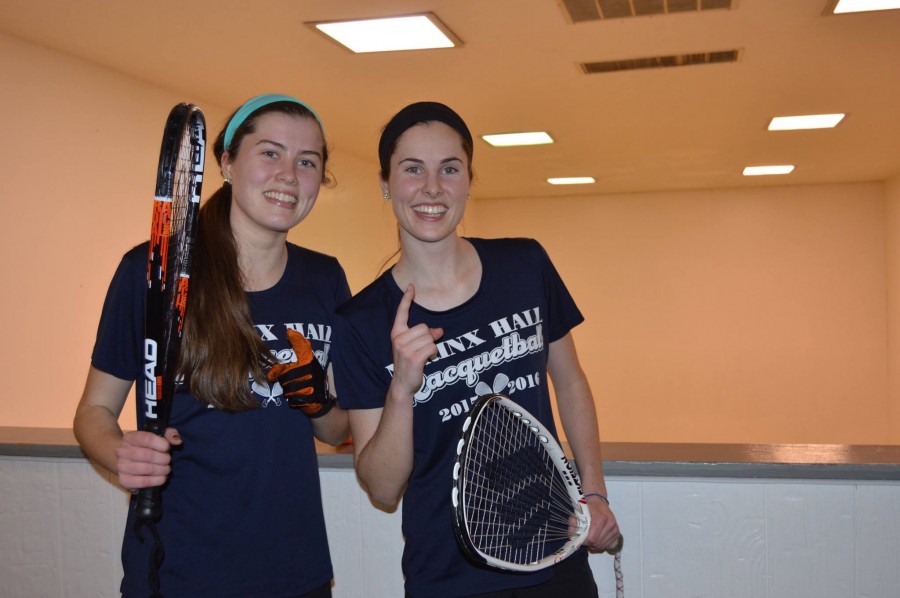 Gwyneth Franke, Reporter
March 9, 2016
Unless you have a twin, you probably don't know what it would be like to have a dynamic friend for life. Not only would you be amazing friends, but you would be an unstoppable team. Bridget and Sheila Connelly are one such team  on the racquetball court.
Last year, the twins decided to play together as doubles partners for the Junior Varsity 1 racquetball team. By combining their strong shots, difficult serves, and intense competitiveness, the duo was quite successful. However, this year, they worked even harder to improve their game and surpassed last year's accomplishments. This year, Bridget and Sheila had a long day at state. They played several difficult and intense games against teams from Ursuline Academy, St. Joseph's Academy, and Visitation Academy. Through their perseverance and support from friends, family, and other team members, the twins placed first in state for varsity doubles.
Even though Bridget and Sheila work well together, there are challenges. Because they are sisters, they feel more comfortable telling each other what to do. If one makes a mistake, it can be a little heated, but they both know this comes from their competitiveness.
Despite these difficulties, the two are able to use their sisterly bond to help each other on the court. By knowing each other's weaknesses and strengths, Sheila can effectively hit challenging shots and take the other team by surprise. Bridget can make small, quick shots in the front to kill the ball and win the point.
As seniors, both girls say there is no better way to end their racquetball career at Nerinx than to win first place in state together. Even though they are bittersweet about this being their last year, Bridget says there is no better feeling than winning the final point and seeing the smile on Sheila's face.