Spotlight: Caroleina Hassett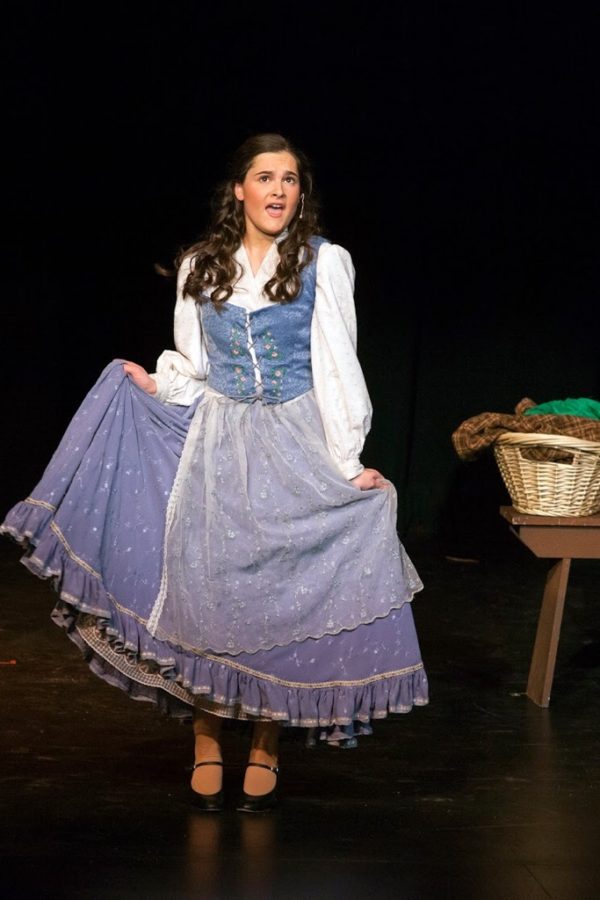 Emily Smith, Reporter
December 15, 2017
Bonjour! Meet Caroleina Hassett, who played Belle in the Nerinx Hall production of Beauty and the Beast. Caroleina is a senior and loves being a part of the theater department. She has been in four fall musicals and one spring show. These include 42nd Street, Aida, Urinetown, Beauty and the Beast, and Godspell.
Caroleina's love for theater began early. The first show she can remember seeing is Wicked. Caroleina recalls, "seeing Elphaba be center stage belting a song and knowing that these people can do this for a living made me love theater." After seeing many shows, Caroleina began doing musical theater when she was nine. "I started when I was going into third grade. I've danced since I was three and always did Nutcracker. I loved the acting and thought I would start doing musical theater." When Beauty and the Beast was announced as the fall musical, she went through many emotions. "I was so excited but it was a lot of pressure. It's senior year and I was nervous, and I didn't know what the outcome would be. I didn't know what was going to happen." But, she was extremely grateful to receive the role of Belle. The whole process was an unreal experience for Caroleina, and one that she will never forget.
However, there's so much more to Caroleina than just theater. "My favorite subject in school is English. I've always liked learning about literature and I've always liked writing." Her first choice for a career would be acting, but she also would love to be in broadcast journalism or a news anchor. Her inspiration in life is Audrey Hepburn. She admires how Hepburn was an empowered woman and who didn't let Hollywood get to her. She hopes to achieve that level of integrity in her career one day.
At Nerinx, Caroleina is involved in many activities. She is a reporter for Hallways, a Student Activities Council representative and a class officer, and she is filming a movie for her video production class. Despite being so active in Nerinx extracurriculars, Caroleina maintains her good grades and always remembers to take her two dogs, Vinny and Vito, for walks. From her bubbly personality to her incredible work ethic, Caroleina is an excellent representation of what it means to be a Marker and Nerinx Hall is fortunate to have her.