Fall Sports Recap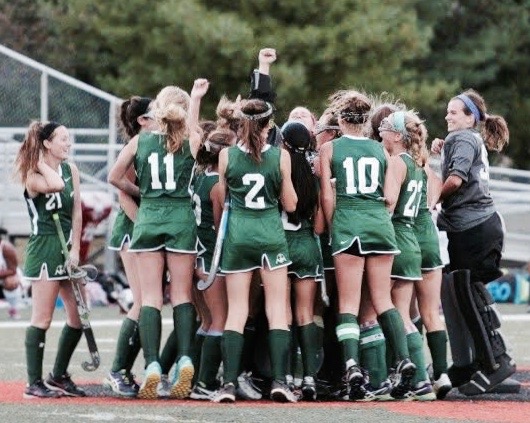 The term Fall is commonly associated with pumpkins, falling leaves, bonfires, sweaters, and Halloween. For Nerinx Hall students, faculty, and especially Nerinx's athletic director Nancy Milward, it means "Every day is game day!" Students of Nerinx Hall have ample opportunity to participate in several different sports during the fall season such as golf, volleyball, tennis, cross-country, softball, and field hockey. This year our teams have exemplified the motto of "Every day is game day!" through outstanding sportsmanship and have produced some impressive wins against big opponents. Although winning a rivalry game against St. Joe or Cor Jesu is a great feeling, sometimes it is not the highlight of the season. Often it is the positive experiences off the field such as team dinners, going to mass together, or doing service collectively that define what it means to be an athlete at Nerinx Hall.  
The Nerinx Hall golf team finished up their season with an overall record of  6-4. Though the girls compete individually, their scores are added together to get a team score. Junior Caroline Lynch, who represented Nerinx Hall at the state finals, explains, "Essentially, golf is an individual sport, but playing as a team and wanting each other to do well is very important and creates a strong bond among the team. It is a really great sport you can play forever."
The Nerinx Hall volleyball team has a record of 9-9 heading into the district playoffs. Head coach Jane Baumgartner and her assistants Mary Grace Graf and Erin Thieman have led the team to big wins against fellow MWAA teams Villa and Incarnate Word. Junior Hailey Bettlach had a really positive response when asked about her coaches emphasizing that, "They really want us to do our best." The volleyball team's season ended with a loss to St. Joe in the district championship.
Varsity tennis wrapped up an exciting season filled with intense matches in late September. Varsity coaches Patricia Ott and Susan Slattery led the team to a record of 7 wins and 6 losses. Tennis is one of the shorter fall sports in consideration of time, as the first game was on August 24th and the last on September 29th. Senior Nicki Horn said she loves her team and the people a part of it because, "We all support each other and encourage each other. I like the feeling of playing a good game, win or lose. I also enjoy the different techniques and drills we practice that help everyone become a better player, so they can play to the best of their abilities."
One of Nerinx's favorite teams, varsity cross country, continues to impress this season. Head Coach Gary Quigley and Assistant Coach John Meyer have led the team to some intense scores and placings this year. Depending on how long post-season goes, Cross Country can go all the way into November. The team has scored into first place twice so far this season, in the top five places four other times, and placed in the top 30 in the Forest Park Festival Race. Cross Country finished 12th at the state meet.
Improving every year, the Nerinx Varsity softball team continued to grow in skill and technique this past season. Head Coach Dawn Grass and Assistant Coach Dani Brinkmann tackled their second season of coaching softball at Nerinx. This year, softball ended with a record of 4 wins and 13 losses. When Coach Grass was asked what she likes about coaching, she said, "I like teaching the girls softball. It is a very complex game."  
The Nerinx Hall field hockey team produced one of the greatest seasons in school history. Seeded 3rd heading into districts, Head Coach Jody Patterson and Assistant Coach Cindy Berndt have coached the team through an impressive 12 wins and only 6 losses. Head Coach Jody Patterson speaks with passion about the game itself and the team, "I love teaching the game of field hockey. Seeing progress from beginning to end and the girls teamwork is something I love to see. Everyday I try to challenge them to get better." The field hockey team lost in state semifinals to Villa. The girls gave it their all and fought until the end.
Every Fall, Nerinx sports have had an incredible season full of growth, improvement, and bonding with their teammates and coaches. Nerinx Hall athletes continue to represent our school through their efforts with sportsmanship. All of our athletes deserve a big congratulations on their fantastic seasons!